palmGryMand.zip - Mandelbrot set routine for gray lcd palms (tested on m100 only), includes 68k asm pila source code + .prc binary.
mand.palm.zip - various tsts with OnBoardC. physical screenshot: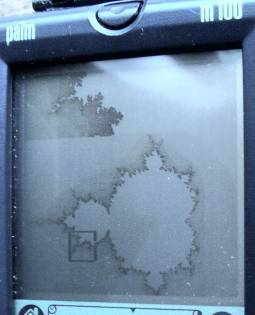 ---
Getting started with palm coding: (For demo/graphic coding, in assembly, at least on mono-palms):
Download 'pila' M68K assembler, any M68K assembler should do, but pila has special syntax that eases integration with palm conventions. at dmoz. Look for 'pila' online, it's
The pack above,enables you to put pixels on a framebuffer, in a simple straight-forward manner. The framebuffer access is derived from the info in the Dragonball manual, read on.
Get Motorola's M68K docs: M68000PRM.pdf MC68000UM.pdf
last time I checked they where on http://www.mot.com , however, as people complain, they keep changing their site / ftp-dir-struct / whatever. Simplest, just search for these filenames. This is just the M68k arch docs, the same for all 68Ks.
The palm works on a dragonBall chip, so find: MC68EZ328UM.pdf - the dragonBall CPU manual. LCD setup/access, and everything else about the hw is described there.
The Palm-OS-API-reference is avaliable for free if I'm not mistaking, I havn't tried it myself
Anything this list might have to do with Palm-application coding, is purely a coincedence, I'm not interested in coding applications. Such info is easily accessiable elsewhere.
Try the 'OnBoard-Suite': http://onboardc.sourceforge.net/ Basicly that's an On-Board C compiler (!) and Assembler, that runs on the Palm, very useful for testing, albeit: the C compiler compiles very sub-optimal code, and the assembler is under-documented. But again, this is a very useful tool, for checking your ideas about what different regs do etc. For example, the mandlebrot set above, is about 5 times slower, when written in C, and compiled with the onboard-C compile, than my assembler version, I havn't tried if gcc does a much better job at it.
For real development in C, look for gcc for palm, proboably on palm.com or 3com.com.
PalmDev - Alternatives to C page, has a nice collection of links, which might suit somebody's taste/needs, including forth and lisp on-board systems!
This mand test, was originally written on a train, in Palm-memo-pad, using on-board-C. However, on the same trip, I wrote something that made the palm hang, and a hard-reset wipe'd the RAM, this is a problem with-on-board coding! Be careful where you POKE! especially that after the hard-reset, I didn't have on-board-C anymore!